---
St. Botolph Street Names and Abolitionism
A question at a neighborhood gathering about the origin of street names in the St. Botolph neighborhood leads to an interesting look at abolitionism and anti-slavery activism and post-Civil-War attitudes in the city of Boston. The eight streets in the neighborhood suggest a British influence, starting with Albemarle, Blackwood, Cumberland, Durham. The pattern shifts with Follen and Garrison, and then picks up the British tone with Harcourt, and then the more American name Irvington. Two studies of neighborhood history mention that Garrison Street is named for the abolitionist William Lloyd Garrison. But who chose this name? Was there a public announcement of the name? Is there anything significant about the other street names?
The St. Botolph neighborhood was developed in the 1880s, fifteen years after the close of the Civil War and just before the beginning of the Progressive Era. St. Botolph was the last section of the Back Bay tidal flats to be filled in and developed. Since the early 1800s, the tidal marshlands of the Back Bay had been under the management of the Boston and Roxbury Water Power Company, a company organized to create a water-power dam that would capture tidal flows to power mills.
The water power project did not work as well as hoped, and the dam transformed the tidal flats into an unhealthy polluted marsh. The dam project was abandoned in favor of filling the Back Bay for development. Most of the Back Bay was filled in the mid-1800s. The St. Botolph Street neighborhood was filled and developed later, managed by a trust, called the Huntington Avenue Lands. Three trustees oversaw the development. The first three trustees were Alexander Rice, Franklin Haven and James B. Thayer. Thayer resigned in 1879 and Peleg W. Chandler became the third trustee, just as the street laying and land sales were beginning.
The street names are a topic of curiousity and interest because, unlike most parts of Boston, the streets in the small St. Botolph neighborhood were laid out in a grid, in alphabetical order.
In 1880, the first four streets were laid out:
Albemarle Street
Blackwood Street
Cumberland Street
Durham Street
The next street, West Newton Street, was already in place before 1880.
The next three streets were laid out in 1882 and the last in 1884:
Follen Street
Garrison Street
Harcourt Street
Irvington Street
---
A 1910 Boston street directory notes that Garrison Street was named for William Lloyd Garrison. Two local histories about the neighborhood [Landmarks study; and Durham St. study] mention that Garrison Street was named for Garrison. Both of these local histories note that there is no information about how the other streets were named.
However, the Follen Street name suggests another Garrison connection: Charles Follen had also been an abolitionist, and Garrison named one of his sons Charles Follen Garrison. This son died in childhood.
Garrison died in 1879, so the idea of naming one or more streets in honor of his work was timely. But it is interesting that so far there appears to be no known documentation, other than the much-later 1910 street directory, about the naming of the streets.
Even in the 1880s, Garrison was still viewed a controversial figure, and Garrisonian abolitionists had been seen as too radical and too idealistic. Newspaper editorials from 1880 still echoed these sentiments, such as an article in the Boston Post that started with the statement "The POST was never in love with the abolitionism of Governor Andrew..."
Reflecting these continuing tensions, the three trustees who oversaw the development of the neighborhood came from three very different political perspectives, and might not have agreed on the choice to name a street for Garrison. Of the three trustees, Peleg W. Chandler is most likely to have wanted to honor Garrison. Chandler was a lawyer, politician, historian and writer, with books, speeches and public statements that show that he was strongly anti-slavery. The other two trustees had political affiliations that opposed abolitionism. Alexander Rice, a former governor of Massachusetts, was from the conservative wing of the Republican party, opposed to the radical republicanism of the abolitionists. Franklin Haven was a bank president and described as a blend of political traditions that were anti-abolitionist. [From: Wikipedia, New York Tribune]
A search of Chandler's writings and of newspaper archives from the time provide evidence of Chandler's support for the anti-slavery cause, and the importance of this cause in his life.
In 1841-44, Chandler's book "American Criminal Trials" highlighted the injustice of a case of false accusations about an alleged plot by slaves to burn down the city of New York. In this book he clearly developed the case against slavery, stating that many layers of injustice are inevitably part of any system of slavery. The book includes other profiles of unjust trials, including histories of the trial of Anne Hutchinson, the Salem Witch Trials, trials of Quakers by early colonists, and others.
In a 4th of July speech in 1844 titled "Morals of Freedom," Chandler highlighted the need for moral reasoning above corporate economic interest, and acknowledged that the government often does things that are unjust.
In 1850, unfortunately, as city solicitor, he argued against the Roberts v. City of Boston school integration case, stating that the law had no provision requiring integration. While Massachusetts soon passed legislation to desegregate schools, the Roberts v. City of Boston case became a legal precedent for the 'separate but equal' doctrine. Boston's abolitionists such as Wendell Phillips denounced Chandler's role in the case; perhaps setting the stage for Chandler's future further evolution on these issues.
In 1856, Chandler spoke out, and was quoted in Garrison's newspaper, The Liberator, against the arrest of Anthony Burns, who had escaped from slavery and was arrested in Boston under the Fugitive Slave Act.
In 1863, during the Civil War, Chandler was serving as a state representative and spoke in the Massachusetts legislature in favor of blacks serving in the militia but also about the irony of this proposal.
In 1865, along with Governor Andrew, Wendell Phillips and others, Chandler was appointed as a member of a committee to create a memorial for Colonel Robert Gould Shaw, leader of the 54th regiment. This regiment was one of the first official African-American units in the United States during the Civil War.
In 1865, Chandler signed the "Boston Letter," along with other Boston leaders, in support of suffrage for newly freed slaves. Chandler's name is listed third among the list of those who signed the letter, suggesting that he played an active role in the letter.
In 1880, he published a memoir of his lifelong friend Governor John Albion Andrew, highlighting the governor's support for abolitionism and emancipation.
---
---
St. Botolph Neighborhood Development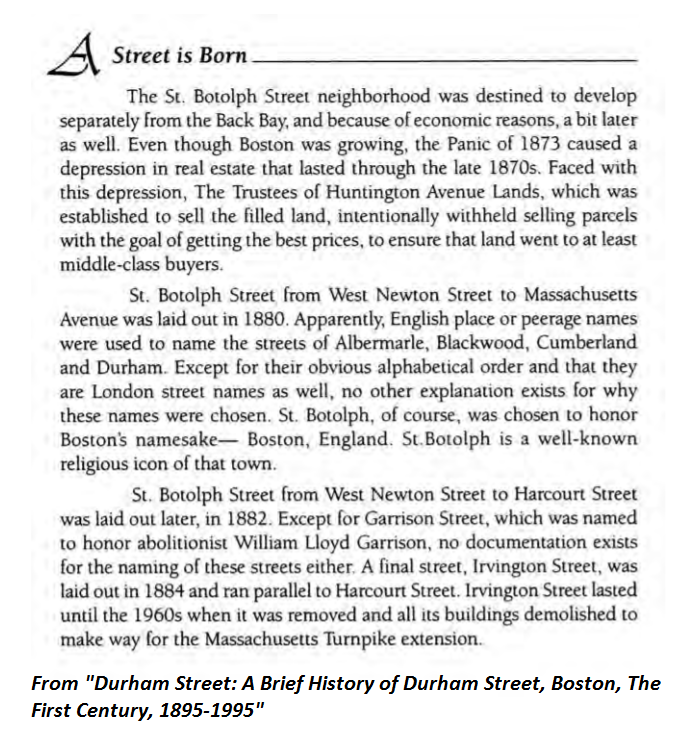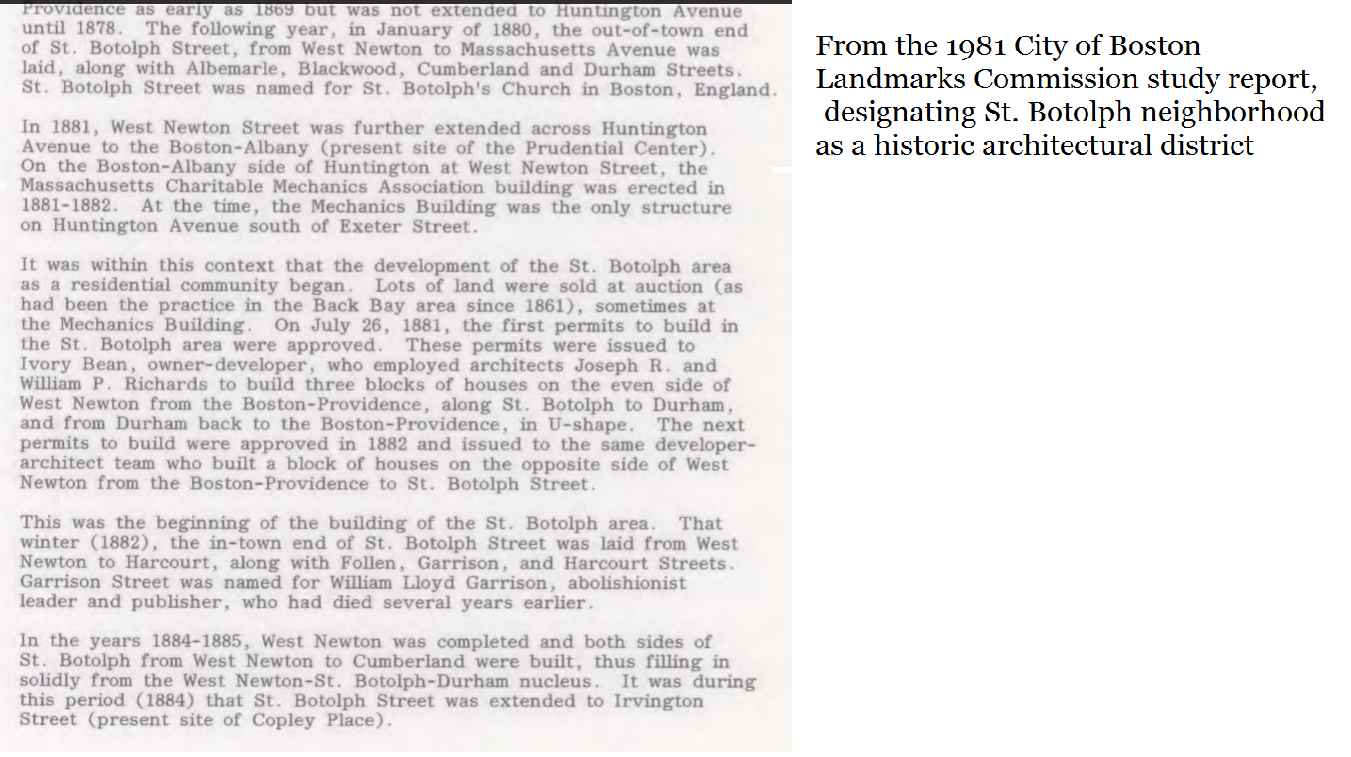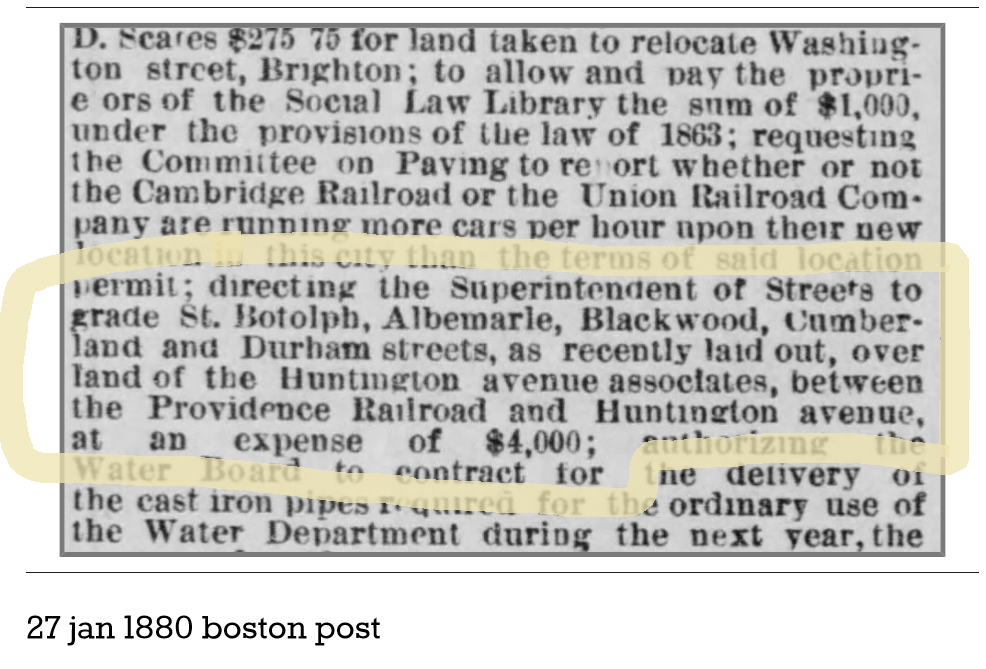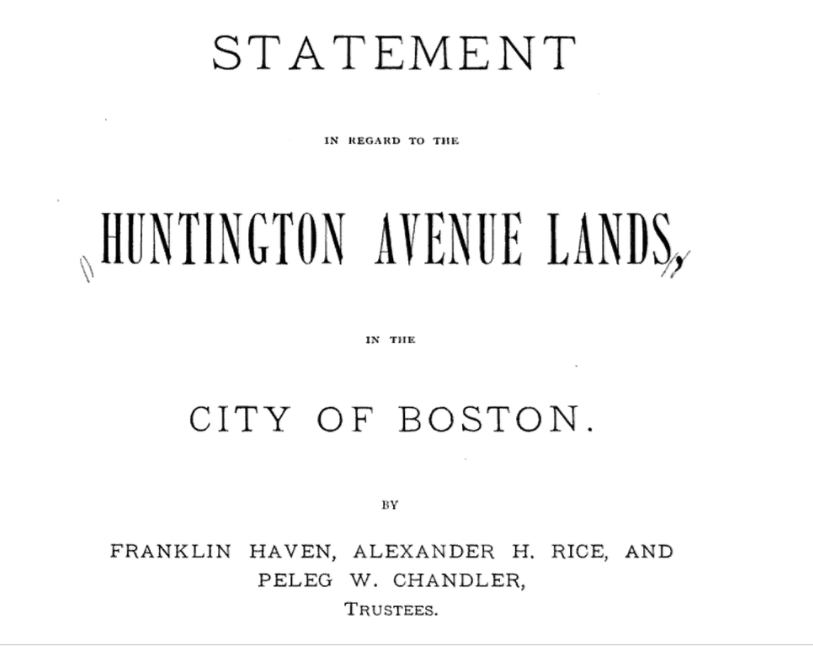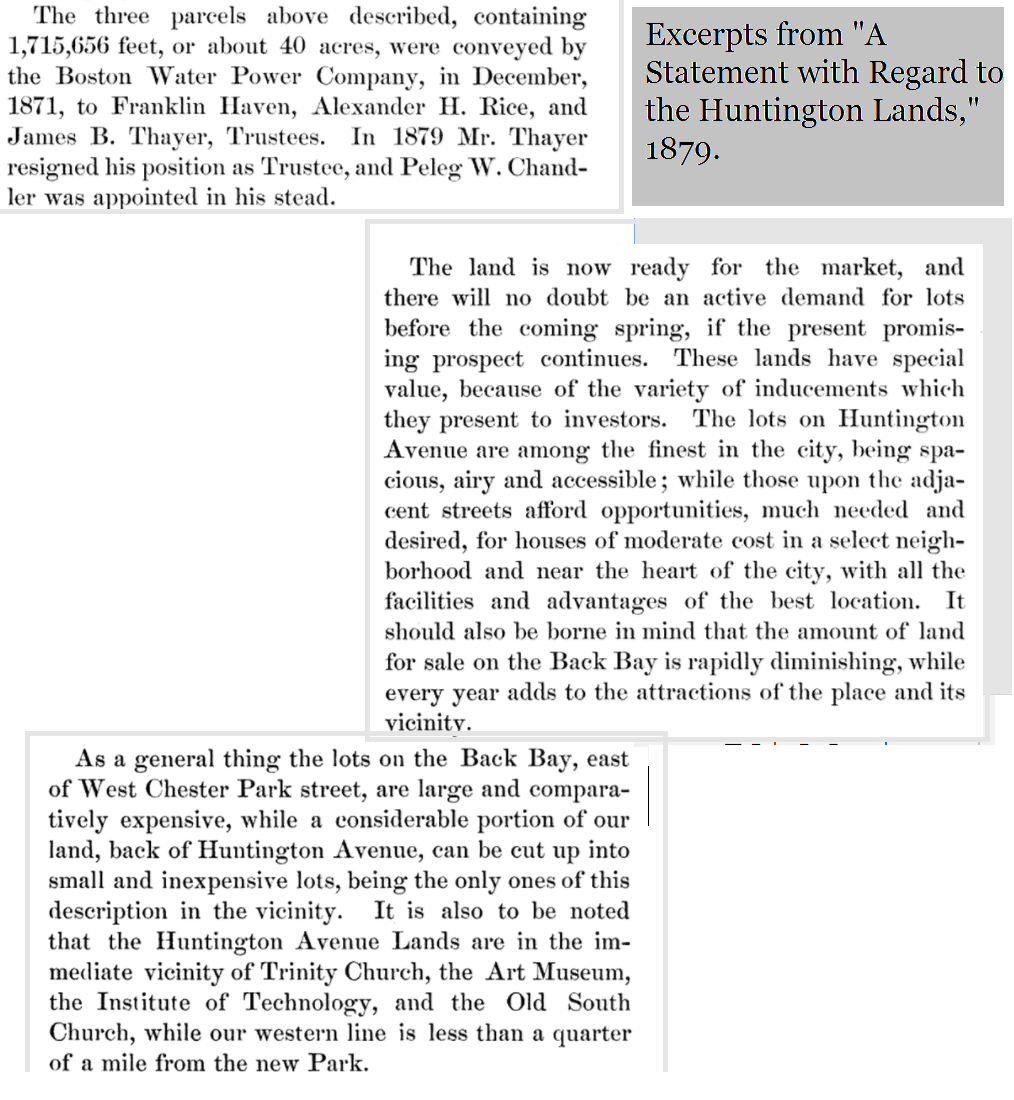 ---
Chandler & Anti-Slavery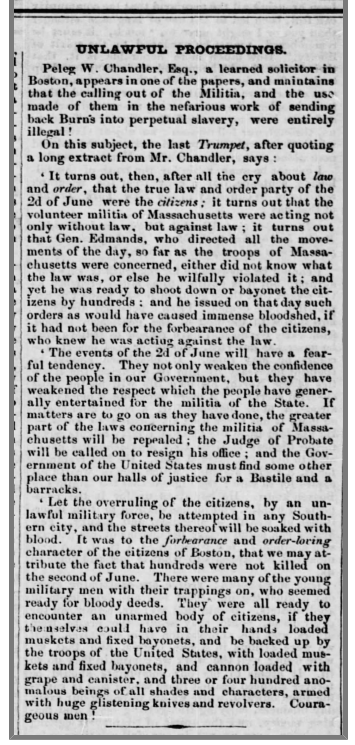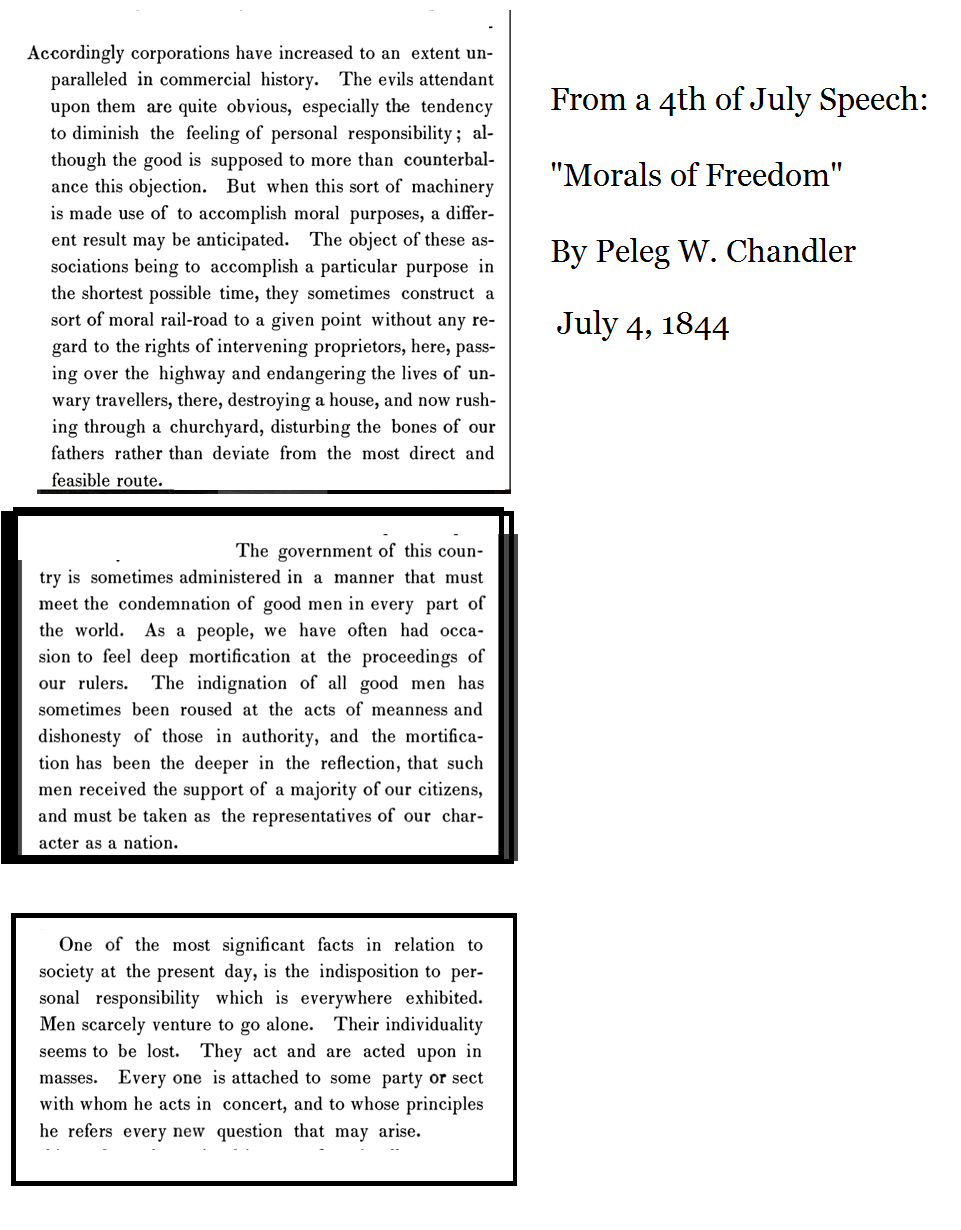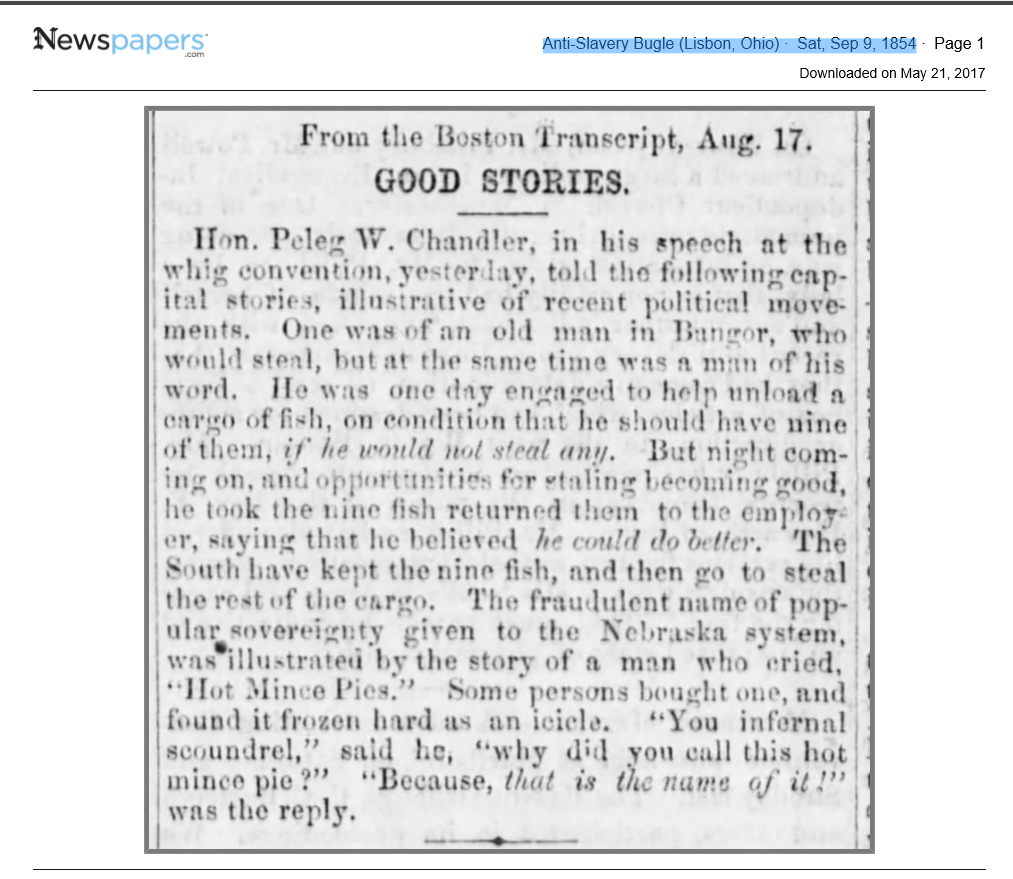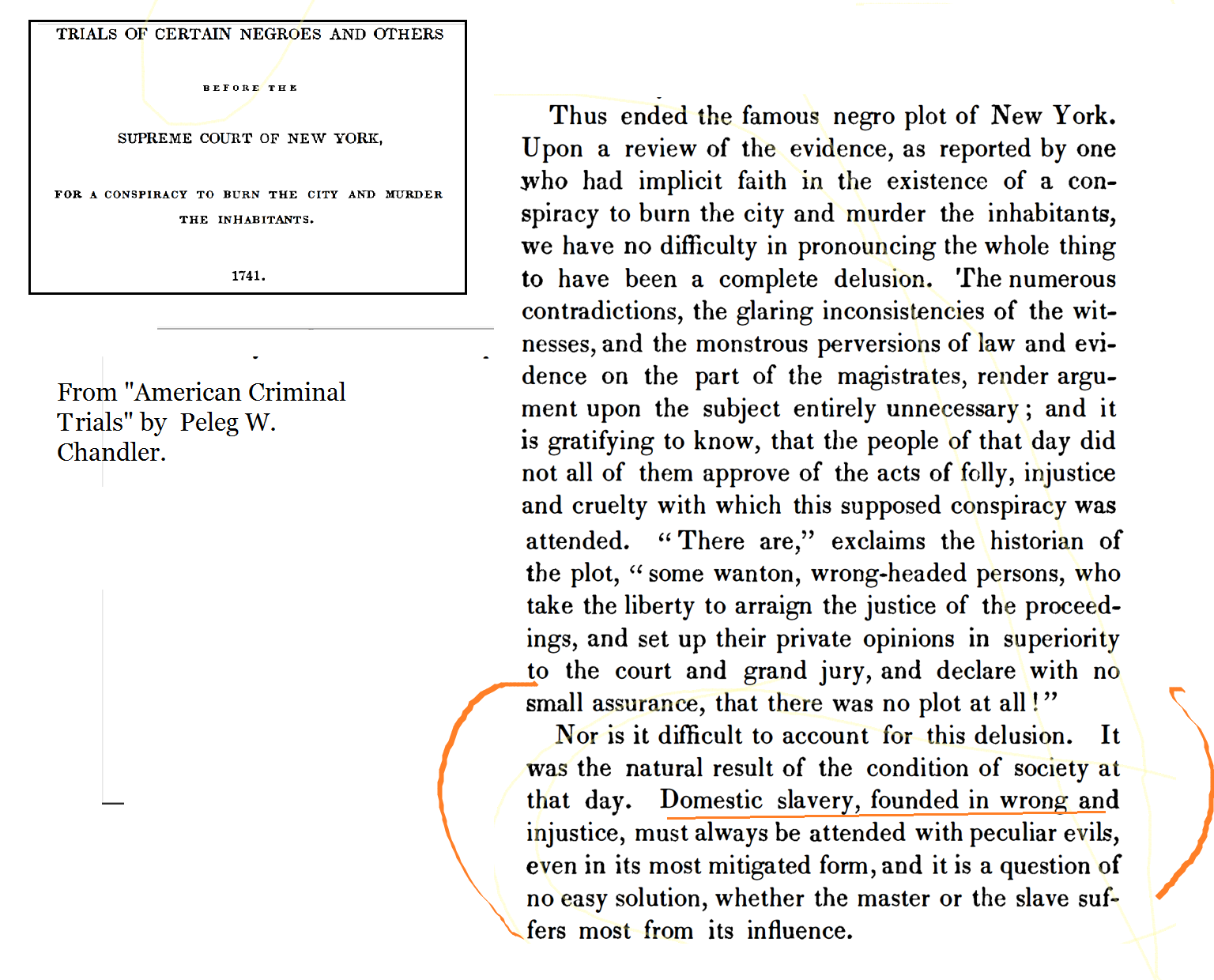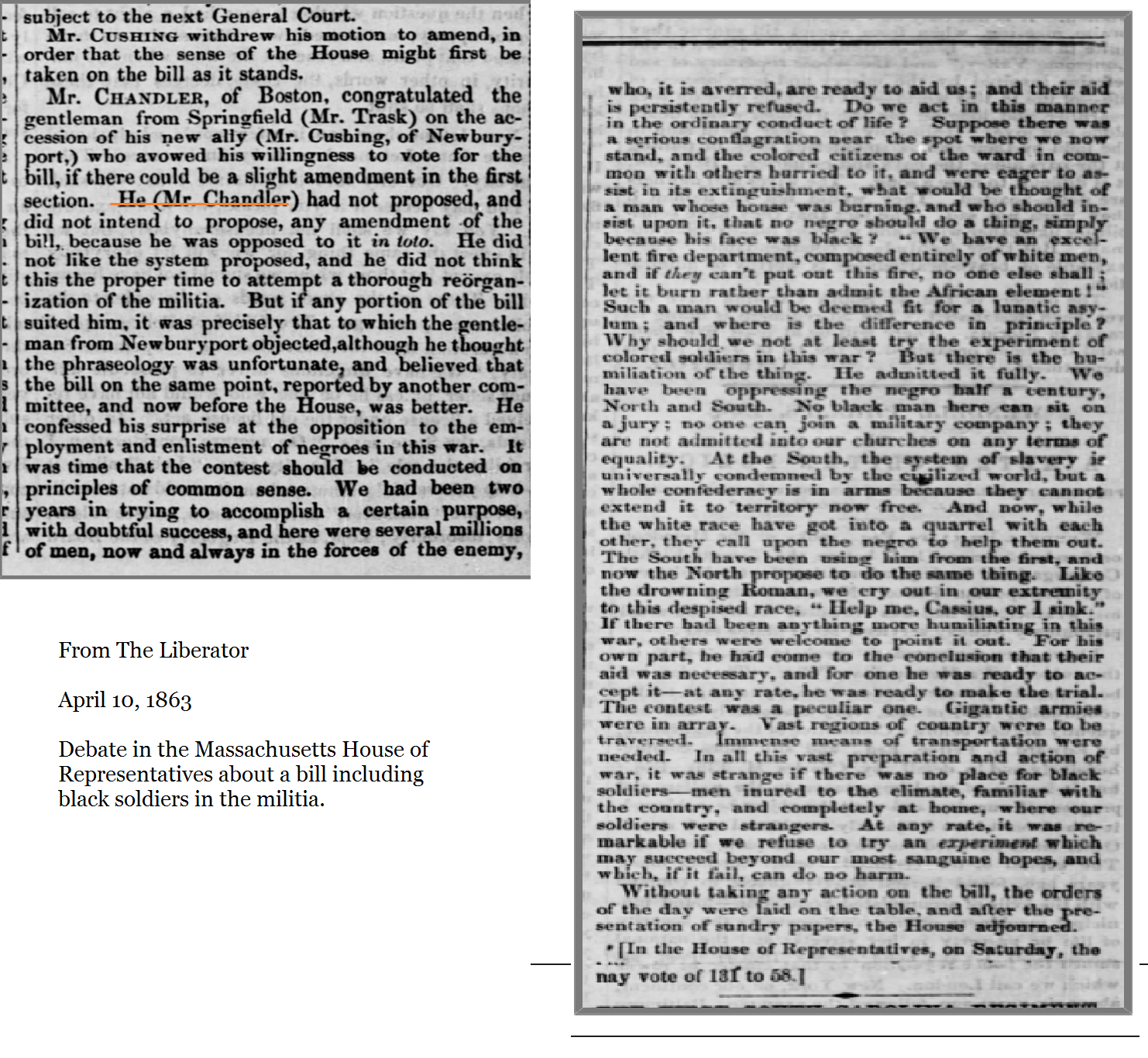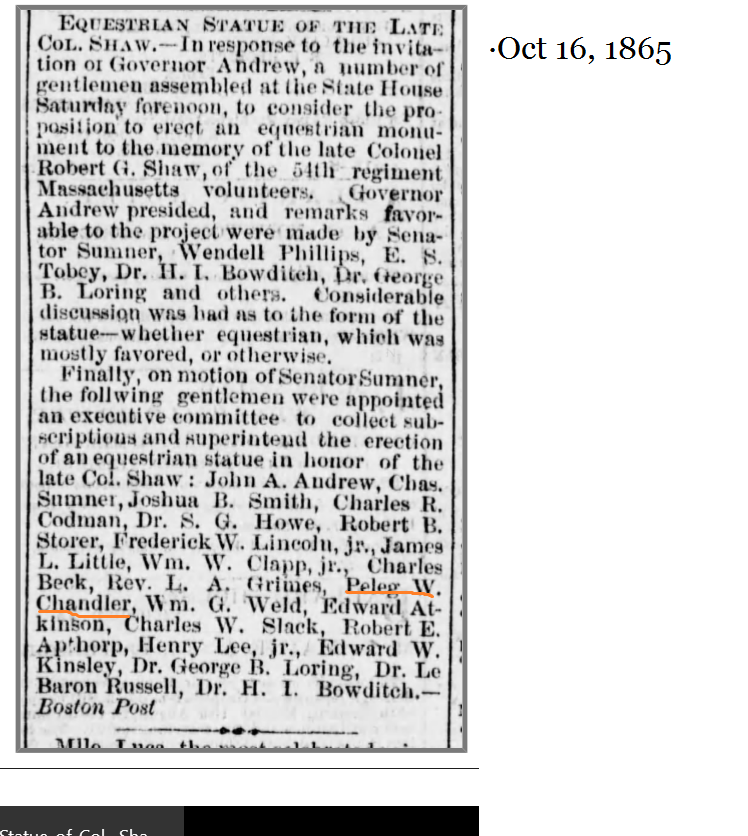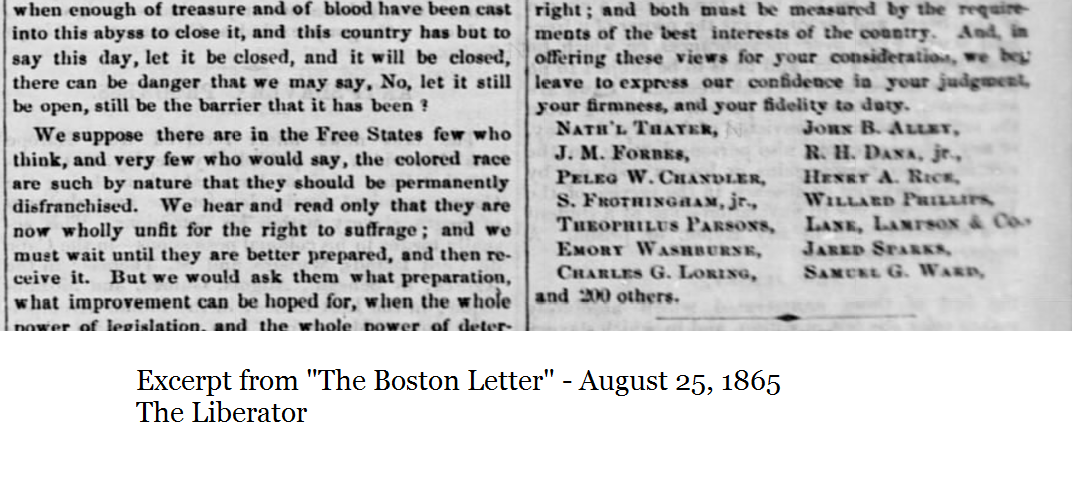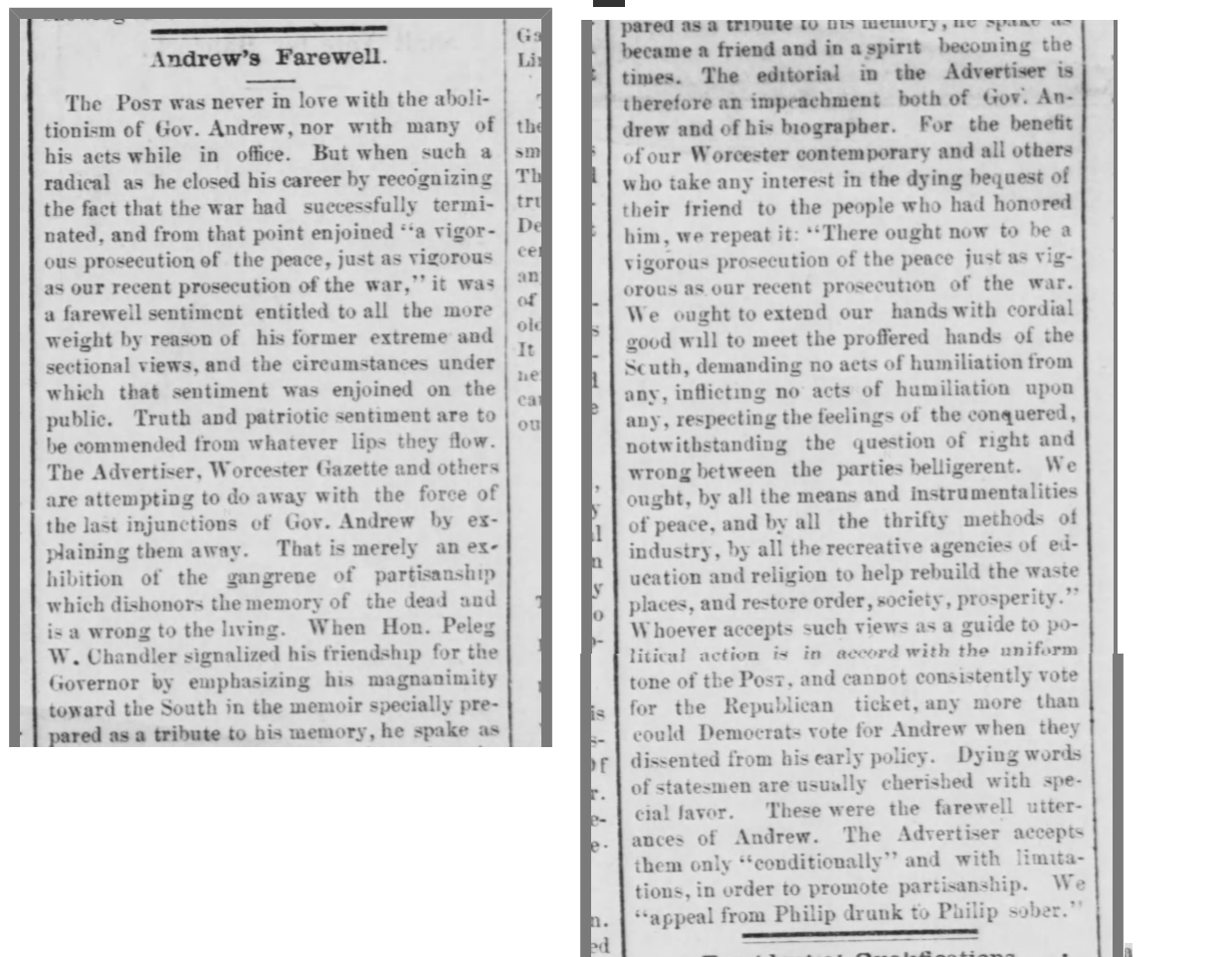 ---
St. Botolph Neighborhood Map Excerpts
From http://mapjunction.com
---
Peleg Chandler Bio from the Peabody Essex Museum website:
Peleg Whitman Chandler
was born April 12, 1816 in New Gloucester, Maine, the son of Peleg Chandler and Esther Parsons. He received his early education at Bangor Theological College and was graduated from Bowdoin College in 1834.
He commenced reading for the law in his father's law office in Bangor and continued his studies at Harvard's Dane Law School. During his years in law school he also served as a court reporter for the Boston Daily Advertiser. Chandler was admitted to the Suffolk County bar in 1837 and commenced the practice of law in Boston, with offices located at 4 Court Street.
On November 30th that same year, he married Martha Ann Bush Cleaveland (1812-1881) of Brunswick, Maine. The couple had three children: Ellen Maria (1839-1908); Horace Parker (b. 1842); and Parker Cleaveland (1848-1908).
In his early career, Chandler became involved in Boston and Massachusetts politics. He served as a member of the Boston common council from 1843 to 1845, was elected to the Massachusetts House of Representatives in 1844, the executive council of the Commonwealth in 1854, and again to the House of Representatives in 1862. In 1846 he began a seven-year stint as city solicitor for the city of Boston, resigning in November 1853.
Peleg Chandler's law practice was confined to civil and commercial law and he was considered an expert in bankruptcy law, having served as a commissioner in bankruptcy during the early 1840s. He was particularly known for his courtroom ability, and was considered one of the finest lawyers in Massachusetts to present a case before a jury. Unfortunately, during the height of his career, deafness made it necessary for him to withdraw from trial work, and eventually from the practice of law altogether. He died on May 28, 1889.
In addition to his law work, Chandler was a prolific writer. He founded a monthly journal, the Law Reporter, and wrote two volumes of American Criminal Trials (1841, 1844), Bankruptcy Laws of the United States, and the System with Rules and Forms in Massachusetts (1842), Revised Ordinances, Boston (1850), Authority of the Gospels, By a Layman (1867), and Memoir of Governor Andrew, with Personal Reminiscences (1880).
-(Peabody Essex Museum)
---
Summary
It is clear that Garrison and Follen Streets were named in honor of these two abolitionists, or in honor of Garrison and his son.
The theory that Peleg W. Chandler was the person who named the streets is just a theory.
If Chandler named the streets -- what about the other street names? Here is some speculation:



Albemarle and Blackwood Streets could reflect Chandler's interest in writing and publishing. A famous publisher at 50 Albemarle in London was a gathering place for writers and others who reflected the progressive ideas of the time. Blackwood's magazine was a forum for ideas, with a first editor who was an early abolitionist in South Africa.
Cumberland Street could be named for Cumberland County in Maine, which was Chandler's birthplace.
Durham Street could be named for the nearby town of Durham, Maine. There was also an abolitionist named James Durham, from New Orleans, who was one of the nation's first black physicians.
Irvington Street could be inspired by the community of Irvington, Indiana, founded in the 1870s by two abolitionist lawyers, Jacob Julian and Sylvester Johnson. Irvington was founded with an idealistic vision, incorporating the arts and craftsmanship, as well as freedom from land speculation. If this community were the inspiration for the street name the connection was very fortunate - because as St. Botolph developed, connections to the arts and craftsmanship, such as stained glass, bookbinding and music were hallmarks of the neighborhood.
As noted in the local history "A Brief History of Durham Street," the first four names, Albemarle, Blackwood, Cumberland and Durham are street names in London, and are names found in British peerage. Harcourt also follows this pattern. Follen, Garrison and Irvington do not follow this pattern.
A recent search has still not found any further documentation about how the streets were named. On the hypothesis that Chandler may have chosen the street names, we have inquired with some of the locations that have archives of Chandler's papers. Chandler's papers are archived in various libraries: the Massachusetts Historical Society, the Rutherford B. Hayes Presidential Library, the Peabody Essex Museum, the Boston Atheneum, and Bowdoin College. Some collections are focused on certain aspects of his legal work; others contain miscellaneous letters. So far, those that we have asked have generously spent time looking at their collections and haven't found anything further.
---
Links/Bibliography
A record of the streets, alleys, places, etc. in the city of Boston, City of Boston, 1910. https://archive.org/details/recordofstreetsabost
St. Botolph Study Report, 1981, Boston Landmarks Commission http://documents.boston.gov/images_documents/StBotolph_Study_Report_36_tcm3-32477.pdf at https://www.boston.gov/historic-district/saint-botolph
A Brief History of Durham Street, Boston. The First Century, 1885-1995 by William J. Parrow. https://www.stbotolph.org/DurhamStreet.pdf
A Statement with Regard to the Huntington Avenue Lands, 1879, Franklin Haven, Alexander H. Rice and Peleg W. Chandler. In Google Books.
The Morals of Freedom: An Oration Delivered Before the Authorities of the City of Boston, July 4, 1844 by Peleg Whitman Chandler. In Google Books
Memoir of Governor Andrew: With Personal Reminiscences By Peleg Whitman Chandler, In Google Books
American Criminal Trials, By Peleg W. Chandler, in Google Books.
Rutherford B. Hayes Presidential Library, Gilded Age Collection, Peleg W. Chandler. http://www.rbhayes.org/collection-items/gilded-age-collections/chandler-peleg-w./?query=category.eq.Gilded%20Age%20Collections&back=Collection_Items
The Boston Letter, in the blog 'Seven Score and Ten,' http://gathkinsons.net/sesqui/?p=7772
Roberts v. City of Boston, in Wikipedia, https://en.wikipedia.org/wiki/Roberts_v._City_of_Boston
Alexander H. Rice in Wikipedia, https://en.wikipedia.org/wiki/Alexander_H._Rice
Irvington Historic Distict, National Parks Service. https://www.nps.gov/nr/travel/indianapolis/irvington.htm
Peleg Whitman Chandler, archives, in Peabody Essex Museum http://phillipslibrarycollections.pem.org/cdm/ref/collection/p15928coll1/id/1832/
Newspaper articles from http://newspapers.com
Maps from http://mapjunction.com